Canada: Rising Hinduphobia issue raised in parliament
Feb 02, 2023 04:56 PM IST
The matter was taken up following the desecration of Gauri Shankar Mandir in the town of Brampton in the Greater Toronto Area on Monday
Toronto: The issue of rising Hinduphobia in Canada was raised in the country's House of Commons.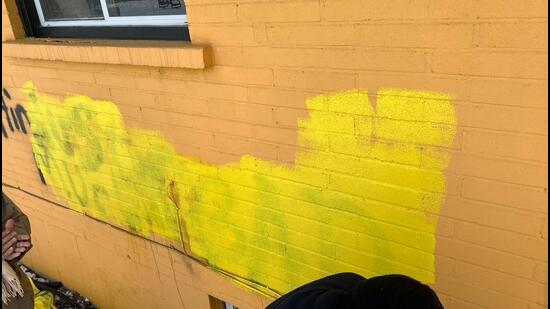 The matter was taken up following the desecration of Gauri Shankar Mandir in the town of Brampton in the Greater Toronto Area (GTA) on Monday.
Addressing the topic on Wednesday in parliament, Chandra Arya, MP from the ruling Liberal Party, called upon the Canadian government to "take serious note of this alarming trend and respond appropriately".
Describing the vandalism of the Brampton temple as a "hate crime", Arya, in his speech in the House, said "this is just one of many attacks in recent times against Hindu temples in Canada by anti-Hindu and anti-India groups".
"Like Islamophobia and anti-Semitism resulting in hate crimes against our mosques and synagogues causing pain to our Muslim and Jewish brothers and sisters, Hindu Canadians are experiencing the same pain due to rising Hinduphobia," he said.
On Tuesday, Canada's foreign minister Melanie Joly condemned the desecration, tweeting, "Everyone should be able to practice their faith in peace, free from violence and intimidation."
"I stand with Hindu communities in denouncing the vandalism at Gauri Shankar Mandir in Brampton," she said, adding, "We have a collective responsibility to denounce hateful acts", which have no place in Canada.
This was the third such incident since July 2022, when a statue of Mahatma Gandhi, located at the Vishnu Mandir in Richmond Hill, was similarly defaced. The 20-foot tall bronze statue was situated in the temple's Peace Park. Weeks later, in September, an episode of such vandalisation occurred at the front entrance to the BAPS Shri Swaminarayan Mandir in Toronto. Both those crimes also remain unresolved amid growing concern within the community over rising Hinduphobia.
Similar instances have also been reported from the United States and Australia.
Several community organisations in Canada are campaigning to get Hinduphobia formally recognised in Canada.