'We're again being threatened': Vladimir Putin fumes over this huge Ukraine gain
Feb 03, 2023 10:38 AM IST
Russia-Ukraine War: Vladimir Putin said, "We are again being threatened by German Leopard tanks."
Russian president Vladimir Putin vowed a stern response to any country threatening Russia as he lashed out against Germany for promising tanks for Ukraine. While, Ukrainian president Volodymyr Zelensky warned that Russia was consolidating its forces for a fresh offensive, Vladimir Putin said, "It's unbelievable but true. We are again being threatened by German Leopard tanks."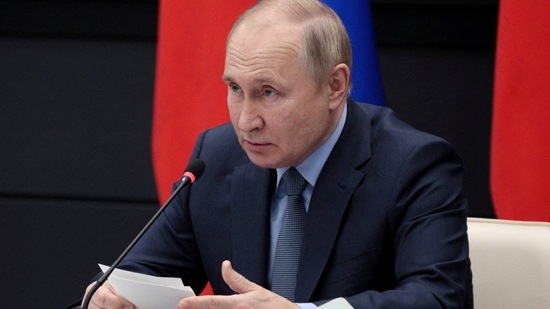 Read more: Chinese 'spy balloon' spotted in American skies, Pentagon says
The comments came as Vladimir Putin was speaking at a ceremony commemorating the Red Army's victory in Stalingrad. "We have something to respond with. A modern war with Russia will be completely different," Vladimir Putin asserted.
The West promised Ukraine with more deliveries of battle tanks to fight Russian forces this month as Zelensky said that Russia is "preparing to try to take revenge, not only against Ukraine, but against a free Europe and the free world," in a joint press conference with EU chief von der Leyen.
Read more: Wouldn't underestimate Xi Jinping's Taiwan ambition, he told army to…: CIA chief
"We will introduce with our G7 partners an additional price cap on Russian petroleum products and by the 24th of February -- exactly one year since the invasion started -- we aim to have the 10th package of sanctions in place," EU chief said in Kyiv while Zelensky asserted that Ukraine deserved to start accession talks this year to "give energy and motivation to our people to fight."